23.08.2022
BALTIC VCA SUMMIT 2022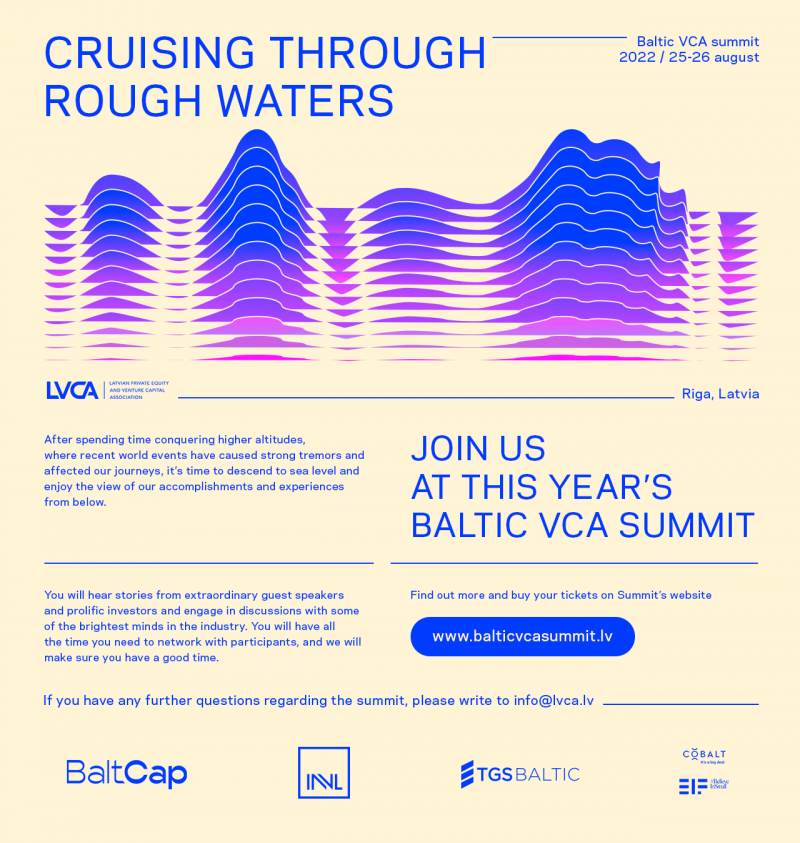 Private Equity and Venture Capital Market Experts to Meet at the Baltic VCA Summit in Riga
Private equity and venture capital industry experts will meet in Riga on the 25th and 26th of August at the Baltic VCA Summit to discuss cooperation opportunities, the latest trends in private equity and venture capital markets, share experiences in investing and raising capital, as well as discuss the challenges and opportunities that arise from the current turbulent geopolitical and financial circumstances.
The Baltic VCA Summit is held every year in late August in altering Baltic cities, where it convenes primarily private equity and venture capital players from the Baltics, Poland and the Nordic countries. The summit includes a conference and masterclasses, providing industry players with an opportune platform for networking, exchanging ideas, experiences, contacts and other significant industry developments. Because this year has been saturated with unexpected events for the financial world, the summit conference will focus on adapting to political, economic and environmental shocks with farsighted investment strategies.
"Although it is evident that this year is full of challenges, the Baltic region's private equity and venture capital industry continue to invest in businesses actively. New investment opportunities are opening up as we speak. However, this is also the time to be particularly cautious and prescient when investing, calmly assessing the risks and considering unforeseen future challenges. At a time when the Baltic States are striving for energy independence, the role of private equity in infrastructure development projects is more important than ever. So infrastructure investments are one of the headline subjects that we will be focusing on during the summit," says Kristīne Bērziņa, Chairwoman of the Board of the Latvian Private Equity and Venture Capital Association (LVCA).
Kristīne Bērziņa highlights that despite the high degree of political and economic uncertainty, private equity and venture capital players feel able to adapt and continue to support growth of their portfolio companies and deliver returns for fund investors. The industry in the Baltic and Scandinavian countries is now operating in a single market, which increases its stability and ability to cope more successfully with external shocks. Today, those working in the industry believe they need to work hand in hand, interacting and jointly finding solutions.
The Baltic VCA Summit has been held for the past 12 years and is organized on a rotational basis by the Baltic private equity and venture capital associations. This year, it will convene around 250 private equity and venture capital representatives from the Baltic Sea region. The summit provides a significant networking opportunity for the Northern European industry. The Baltic VCA Summit is supported by BaltCap, the leading private equity and venture capital investment company in the Baltics, TGS Baltic, the private investment fund INVL, the European Investment Fund (EIF) and the law firm Cobalt.
More info about the event: https://balticvcasummit.lv/