06.09.2023
Two solar power plants in Valmiera and Saldus backed by AJP Capital and BaltCap completed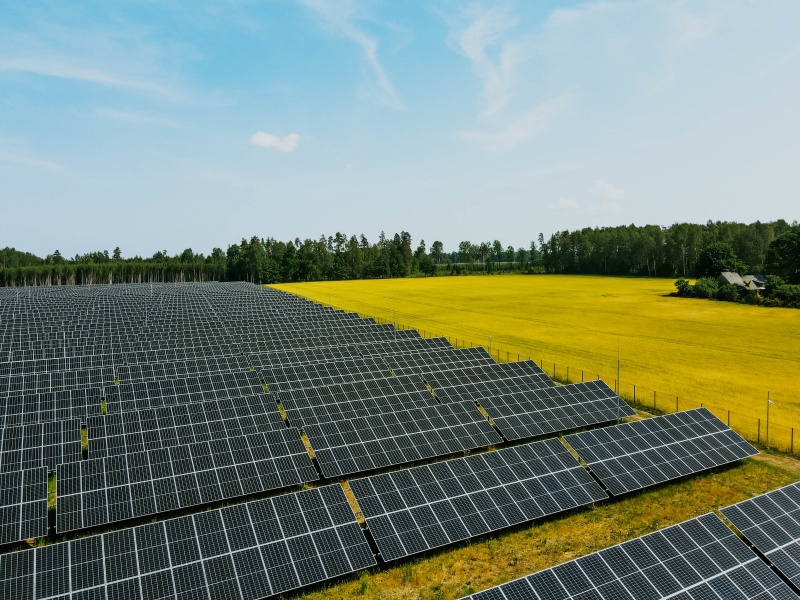 The industrial solar power plant (hereinafter - SPP) in Valmiera has been modelled after the most advanced and environmentally friendly solar parks in Europe. It will be the first agri-voltaic concept solar park in Latvia, where sheep will be grazing alongside the solar panel system on a daily basis and several honeycombs will be housed. The Valmiera SPP will also ensure official proof of energy origin - an industry standard in Europe which is not yet a widespread practice in Latvia. A total of 8,064 solar panels will be installed on a 7 hectares large site of the industrial SPP in the Kauguri parish of Valmiera municipality, and the green electricity generated will be fed into the common electricity grid, providing power to more than 2,000 households.
An even larger industrial SPP has been developed in Brocēni, Saldus municipality. Its total area is more than 10 ha, in which 11,520 solar panels with the total capacity of 6.5 MW have been installed. Even before its construction started, a long-term power purchase agreement was signed with Schwenk Latvija, a leading building materials manufacturer in Latvia, making this the largest long-term green energy supply agreement signed by a single company in Latvia to date. The Brocēni SPP will be generating more than 5,500 MWh of renewable energy per year. This will prevent over 1,600 tons of CO2 emissions from being released into the environment and the company's environmental impact will be significantly reduced.
Roberts Samtiņš, CEO of the energy group AJ Power: "AJ Power installed the first solar panel systems seven years ago, and already then, we were confident that the solar parks we would develop would be measured in hectares. The SPPs developed in the municipalities of Valmiera and Brocēni have been meticulously designed, taking into consideration their location and the end user of electric power. In Valmiera, special attention was paid to the solar park's integration into the surroundings, its added value for the municipality's residents and the environment. Brocēni, meanwhile, is an example of how businesses can efficiently provide themselves with renewable electricity for production. The nearing of the project's completion is an important step not only in the Group's development, but also in strengthening Latvia's energy independence, which is now more important than ever."
The development of the SPPs in Latvia is only one category of energy projects that AJ Power is currently developing together with the alternative investment fund manager AJP Capital and the BaltCap investment fund. This project not only promotes renewable energy production, but also ensures the investing of local capital in the country's energy development.
Total investment in the two SPPs reach eight million euros. Funding for the construction of the Valmiera SPP has been raised from the Development Finance Institution ALTUM and the Solar Core Plus fund. Funding for the development of the Brocēni SPP was provided by SEB banka and LLC PV Power.
LCC PV Power is a joint venture of two funds, Solar Core Plus and BaltCap, as well as the energy group AJ Power, established with the aim to develop solar energy production in Latvia. Solar Core Plus is a fund established by the investment fund manager AJP Capital. The fund was established in 2022 by raising capital from Latvian investors with the aim to make investments in the circular economy segment, including in major renewable energy projects.
About AJ Power:
AJ Power is the largest private group of energy companies in Latvia combining the broadest and most modern service portfolio with the most experienced energy experts. AJ Power offers customized solutions for electricity and natural gas procurement, solar panel projects, natural resource tax administration and energy efficiency improvements. With these energy and waste management solutions, AJ Power enables businesses to participate in the circular economy. The energy group has been operating since 2014 and had a turnover of 90 million euros in 2022.
About BaltCap:
BaltCap is the largest and most experienced private equity investor in the Baltic States. BaltCap focuses on developing companies that improve the quality of life in our society. BaltCap's Infrastructure Fund aims to invest in the mitigation of climate risks. BaltCap is present in all three Baltic States with local offices and experienced investment teams in Riga, Tallinn, Vilnius, Warsaw, Helsinki, and Stockholm.
About AJP Capital:
AJP Capital is an alternative investment fund manager registered with the Financial and Capital Market Commission and established in 2021. A competent and reliable partner that connects investors with the circular economy by offering a variety of investment projects. The funds managed by AJP Capital invest in circular economy projects of various risks and scales. Investment targets include projects such as energy from RES, infrastructure development and adaptation to the circular economy, energy efficiency, as well as investments in the transport sector.