30.09.2022
Throwback to Baltic VCA Summit 2022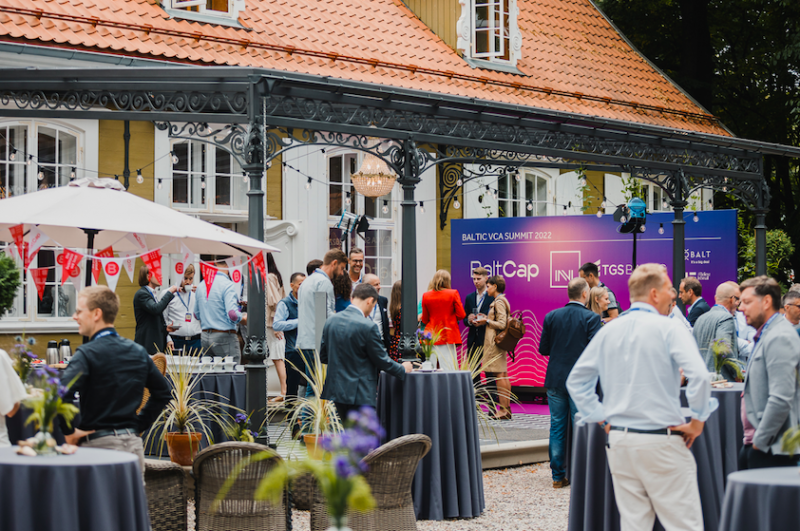 This year the annual summit took place in Riga, Latvia. The theme was 'Cruising Through Rough Waters' - indicating the turbulent time that we currently live in and exploring how to get through different challenges - political instabilities, energy crisis, inflation and others. We were welcomed in the beautifully renovated museum-like Nordeki Manor where participants had a chance to engage in various activities throughout the day - listening to discussion, exploring industry news from experts, meeting each other, networking, enjoying lunch in the garden and most importantly - celebrate being in-person after the long period of Covid and lockdowns.
The event started with an inspiring personal story by Kārlis Bardelis - a person who has rowed across the oceans alone and gotten into various adventures - quite literally has spent a lot of time in 'rough waters', which consequently led to various lessons learnt. Kārlis was kind to share his experience, create a fantastic atmosphere for the rest of the day and bring genuine motivation for explorations and courage in life - as in career, as in other fields.
Afterwards we had a panel discussion "Where are we and where are we heading? Market insights'' - participants were Barbara Nowakowska (Managing Director, Polish Private Equity and Venture Capital Association), Gintas Daniusevičius (Chairman of Lithuanin Private Equity & Venture Capital Association), Jonne Kuittinen (Operations Manager at Finnish Venture Capital Association), Margus Uudam (founding partner at Karma Ventures) - opinions as from the Baltics as from Poland and Finland gave a structured view on the overall situation in the region as a good starting point for the day.
It was followed by the EIF presentation "Staying on course in rough seas" led by Bjorn Tremmerie (Head of Technology Investments).
Krišs Spūlis (Senior Investment Manager at European Investment Fund, VC Fund-of-Funds investments) moderated conversation named "Drop your anchor here/ in the Baltic sea" between Ertan Can (Multiple Capital founding partner), Chris Wade (Co-Founder & Partner at Isomer Capital) and Pavel Dvorak (Principal, Venture Capital & Private Equity Funds at EBRD).
Matīss Paegle (BaltCap Investment Director) talked to the audience about "Tapping the mounting infrastructure funding gap: the role of PE".
Towards the end of the day Marius Matonis (Executive Partner at TGS Baltic) organised a talk about "Stability in the investment world – is it possible?" - participating Tomosaku Sohara (Founding member and Managing Partner of NordicNinja), Vytautas Plunksnis (Member of the Board at INVL investment management and life insurance group, Partner at INVL Baltic Sea Growth Fund) and Shwetank Verma (Co-founder & Managing Partner of Leo Capital).
Last but not least, we had Chris Wade (Co-Founder & Partner at Isomer Capital) and Margus Uudam founding partner at Karma Ventures) having a fireside chat on the topic of "How to survive the Venture Capital market in 2022?"
In order to get a glimpse of the event and remember the sunny days of the summer, please play the video below.
We would like to thank each and everyone who contributed to the Baltic VCA Summit, especially our sponsors and friends - BaltCap, TGS Baltic and INVL , as well as Estonian Private Equity & Venture Capital Association and the Lithuanian Private Equity and Venture Capital Association.
See you at next year's summit in Estonia !