17.11.2019
Main notes & quotes from the Baltic M&A and Private Equity Forum 2019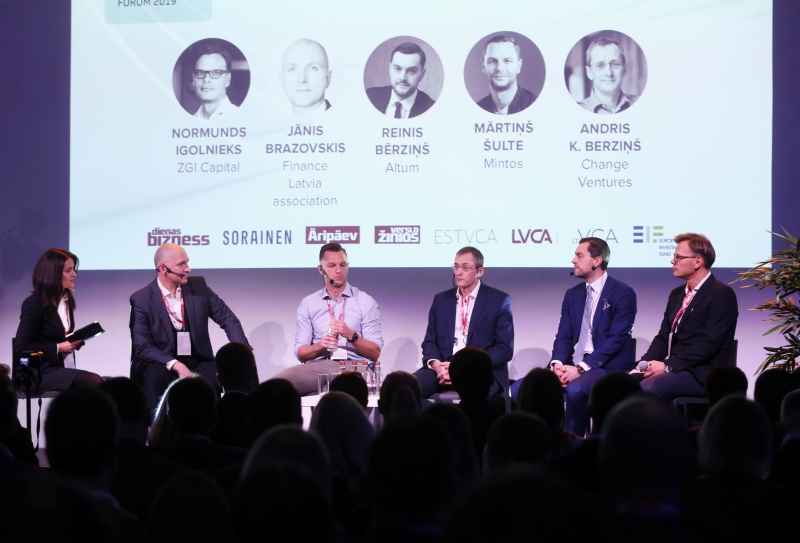 This autumn a record number – 279 – of leading representatives from private equity and venture capital funds, investment banking, consultants, lawyers, business executives and owners from the Baltic region gathered in Riga for the 10th Baltic-scope forum. The Forum programme proved a great platform for establishing contacts and spending time with peers; it also offered a variety of insights from industry experts, discussion rounds, battlefield experiences, as well as a broader perspective on the impact of tech developments and emotional leadership on the transaction environment. Check out the Forum highlights!
Baltic Innovation Fund 2 by European Investment Funds offers over EUR 500 million in new financing for small and medium enterprises. Requirements for fund managers include strong local and international investment strategy, proven ability to support Baltic businesses, leverage on team competences and solid capability to attract private funding. Comments Pier Luigi Gilibert: "It is important to support innovation and innovation is supported mostly by venture capital funds."
Discussion on topical issues in the Baltic PE and venture capital industry suggests that support from governmental agencies and the EBRD is important for industry development. Key take-aways included:
Pension reform is a hot topic in Estonia. In general, there are not enough pension funds in the Baltics.
Recent changes in the law have made fund registration in Latvia much easier.
Competition between funds and specialisation endeavours has increased. In the startup area, competition is local at first but becomes global at a later stage of company development.
Abilities of company management matter a lot. Things in the Baltics are changing at a much faster pace than elsewhere, thus requiring flexibility, qualifications and experience from the management team. Investors look for ambition to grow ‒ not only locally but also internationally.
Imants Jansons from airBaltic shared the recipe for success in big projects such as a 200 million- euro bond issue: "Some basic rules must be followed, including proper preparation, clear vision and a plan. Moreover, the right advisors and the right timing matter a lot. It is also important for management to be aiming at a common goal, to be mobilised and to be ready to put in extra effort to achieve that goal."
A discussion panel on developments in the FinTech area found that struggles in the banking sector provide clear messages:
sanctions are here to stay, and
financial institutions and FinTech are not enemies.
The technology market and its global and local impact on M&A was the subject of several presentations. Ingmārs Pūķis of LMT commented: "The Baltic countries are dominating when it comes to use of modern digital communications". Growing export trends in IT and telecommunication services form the tech landscape of the Baltic countries.
Pekka Puolakka from UROS pointed to several key phrases often heard in Tech M&A – the internet of things, smart cities, and data mastery. "Since everything now is software, you have to really pay attention to intellectual property," he commented.
Jamie Susskind, author of "Future Politics: Living Together in a World Transformed by Tech" spoke on how society will be affected by technology processing data on individuals' behaviour: "Technology exacts power, which is the ability to make people do what they would not otherwise do".
Kristjan Endrikson of Eesti Energia summarised the rationale behind the acquisition of Nelja Energia – clear business and strategic value for Eesti Energia and Enefit Green: growth of the renewables production portfolio, operational and managerial synergies, becoming more attractive to secure financing for growth from banks and capital markets.
Managing a company involved in the M&A process is an exhilarating and demanding experience. Discussion panel participants shared their insights:
Going to meet a potential buyer is like going on a blind date – you know something about the person you are meeting, but do not know how the reality will match your perceptions.
The buyer acquires the whole package (including team/employees), not only company assets.
The task and challenge for the management board during a M&A transaction is to keep the team going – people need motivation to work hard throughout a long process.
Transparency and openness are among the key issues during the transaction and help a lot in post-closing integration.
Mutual trust helps a lot and is especially important if the buyer comes from another region.
Stepas Telešius of Acme Gruppe shared insights from the growing investment market in hemp/cannabis. Over the last 12 months, the European cannabis industry has grown more than in the previous six years, while the global Hemp-CBD market is estimated to reach USD 22 billion by 2022.
Andris Bite of Karavela introduced a case study revealing the idea and process of an outbound deal from the Baltics – acquisition of a 100% stake in Larsen Danish Seafood GmbH. Commenting on the outcome, he said: "Acquisition of the brand and production lines provides a great opportunity for the company to expand its offering with new flavours and a wider assortment range. Production capacity and production volumes have also increased."
Marko Lepik, a SIY Certified Teacher from Estonia, closed the conference by sharing practical tips to help calm down and regain control of emotions during stressful times of decision making, negotiations and overwork that are often an integral part of the transaction process.
Learn more about Baltic M&A Awards 2019.
Sorainen