16.07.2018
Vacuum Technologies Seminar before Baltic VC summit 2018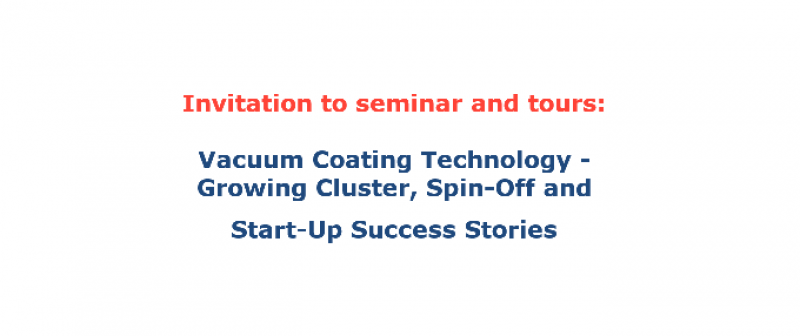 Invitation to seminar and tours:
Vacuum Coating Technology -
Growing Cluster, Spin-Off and
Start-Up Success Stories
22 August 15:00 – 17:00
A/S Sidrabe
17 Krustpils street
Riga, Latvia
Latvia has a growing cluster of successful companies, supported by renown R&D labs, in the field of high-tech vacuum nano coatings. The afternoon before the Baltic VC Summit (
http://balticvcsummit2018.lvca.lv
) learn about this technology and the Latvian companies and labs operating in this cluster.
In just two hours:
• tour the largest collection of R&D vacuum coaters in Northern Europe (
www.Sidrabe.com
)
• visit the European leader in anti-reflective glass coatings (
www.Groglass.com
)
• meet Latvian companies operating vacuum coaters
(
www.eurolcds.com
, others)
• discuss R&D and spin-off possibilities with The Institute of Solid State Physics (
www.cfi.lu.lv/eng/
) – conducting research on one of the most versatile vacuum lab coaters in Europe and The Rēzekne Academy of Technologies (
www.rta.lf/en/
)
• explore opportunities for spin-off investments (including in next generation lithium battery storage technologies).
The session will end with a bit of wine and Latvian beer and cider –
'start-up company' style
This event is free, but registration is required – by Friday August 10, 2018:
register
HERE
If arriving by car – please also register license plate.
Questions - info@lvca.lv