05.10.2018
Baltic M&A and Private Equity Awards: nominees announced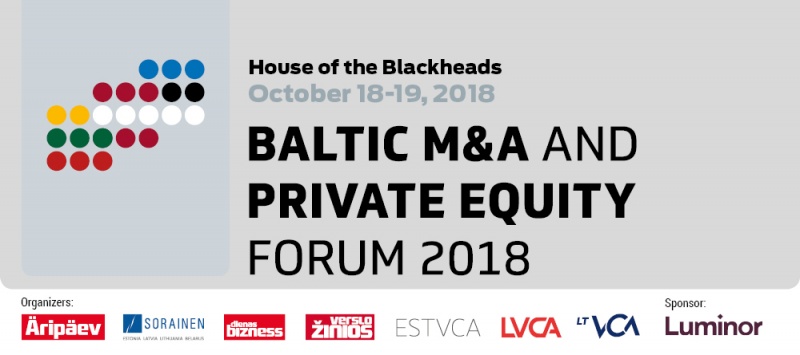 On 18 October the winners of the Baltic M&A and Private Equity Awards will be announced as part of the Baltic M&A and Private Equity Forum 2018. This is already the fifth year that we are celebrating the achievements of the Baltic M&A industry. The awards cover three traditional categories: the Baltic M&A Deal of the Year 2018; the Baltic Private Equity/Venture Capital Deal of the Year 2018; and the Outbound Deal from the Baltics 2018 Award. In addition, this year we are presenting an ad hoc category of 'Baltic Public Offering of the Year 2018' to mark an exceptionally busy year of public offerings of shares by the Baltic companies.
The M&A, private equity and venture capital transactions of the year are selected by a committee consisting of market professionals and experts. The committee selects the winning deals according to criteria such as deal value and strategic importance to the Baltic region, complexity, innovation, financing structure, and involvement of regional representatives.
All eligible transactions should have been completed within the past 12 months. Therefore, the nominees do not include some of the announced major transactions that are not completed yet, such as proposed acquisition of Luminor Bank by Blackstone and acquisition of Nelja Energia by Eesti Energia. However, the committee may supplement the list of nominees if a major transaction is completed prior to the selection of winner.
Members of the 2018 Awards Committee are:
Dace Silava-Tomsone, Managing Partner of Cobalt Latvia
Enn Listra, Dean, professor of Finance and Banking at Tallinn University
Jānis Janevics, Partner at Imprimatur Capital
Jūratė Majauskienė, Associate Partner at Summa Advisers
Kristiina Koort, Managing Director, Estonian Private Equity & Venture Capital Association
Vytautas Plunksnis, Head of Private Equity at INVL Asset Management
Nominees for the Baltic M&A Deal of the Year 2018:
Ermitazas UAB's acquisition of Bauhof Group AS

deal value EUR 35 million
continued bold expansion of the buyer's group in the Baltics;
combination of Lithuanian and Estonian retail chains to offer a wider range of products in both countries

Guangzhou Hangxin Aviation Technology Co., Ltd.'s acquisition of Magnetic MRO AS

deal value EUR 43.17 million
investment by a Chinese industry player that provides an opportunity for a Baltic company to expand into Asia
successful exit by BaltCap from private equity investment after supporting company growth from a small regional player to a profitable global company

Vienna Insurance Group AG's acquisition of Seesam Insurance AS

target operates throughout the Baltics and is a significant market player in non-life insurance
continued expansion of the Austrian group in the Baltics
Nominees for the Baltic Private Equity / Venture Capital Deal of the Year 2018:
Groglass MBO backed by Kartesia

bold MBO with over 50 MEUR financing by Kartesia
opportunity for a Latvia-based innovative manufacturer to expand into new markets

Taxify fundraising from DiDi Chuxing and consortium led by Daimler AG.

fundraising value of EUR 151 million in total
valuation of the Estonia-based start-up at USD 1 billion, making Taxify a unicorn
venture capital investments by strategic groups DiDi and Daimler that support the fast-paced growth of the company

Providence Equity Partners' acquisition of Modern Times Group MTG AB Baltic operations (Viasat, TV3, TV3+, TV6, etc).

largest transaction in the media sector with deal value of EUR 115 million
expansion of the Baltic presence of a major international private equity group
Nominees for the Outbound Deal from the Baltics 2018:
Euroapotheca UAB's acquisition of Apoteksgruppen in Sweden.

large deal value
acquisition of 156 privately owned Apoteksgruppen pharmacies
Euroapotheca will become the fourth largest player in the Swedish pharmacy retail market with market share of approx 9% and unite a pharmacy network of more than 600 pharmacies

Maxima Grupe UAB's acquisition of Emperia Holding SA in Poland

deal value EUR 258 million
acquisition of Polish retailer and wholesaler of food products, cosmetics and household chemical products
expansion of VP Group in the Polish market

Hansapost OÜ's acquisition of 46% stake in Hobby Hall Oy in Finland

acquisition and strategic alliance with leading Finnish mail order, online and store retailer
Hansapost and Hobby Hall's combined revenue EUR 80 million and 225 employees
Nominees for the Baltic Public Offering of the Year 2018
Madara IPO

listing on the Nasdaq First North market in Riga
demand for shares 2.3 times higher than number of shares offered

Novaturas IPO

dual listing on the Warsaw Stock Exchange and Nasdaq in Vilnius
total value of offering EUR 22.1 million

Tallinn Port IPO

listing on Nasdaq in Tallinn
total value of offering 147.4 million
the first state-owned company listing in Estonia in almost 20 years
the first IPO of a major state-owned transport infrastructure asset in the Baltics

Auga Group SPO

EUR 36 million capital raising, led by EBRD and Lithuanian entrepreneurs